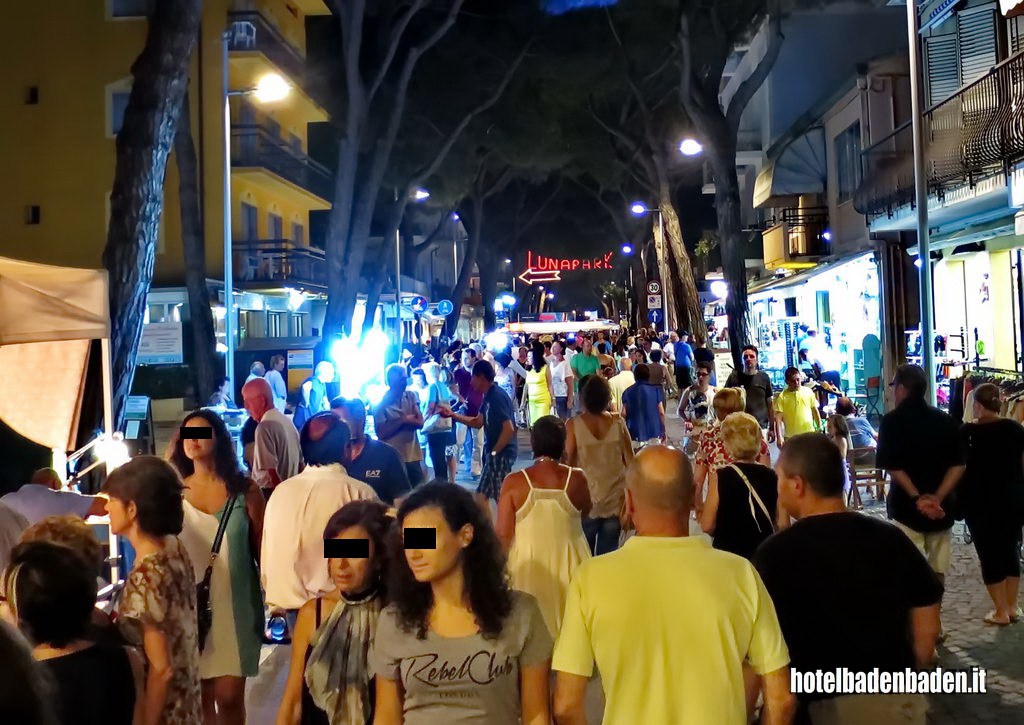 Riccione Abissinia in June 2016
The business association of Riccione Abissinia finances and organizes regular nightly events and attractions in the streets of the district.
Most is happening in Viale Gramsci and Via Torino, right in front of your family hotel. Don't be afraid of the noise. Everything stops at about 11pm and you do not have to worry about your beauty sleep.
Riccione Abissinia is the city district where 3 star Hotel Baden Baden is located. The area is dominated by medium sized, family hotels. The famous thermal spas of Riccione are just a few steps away. Most shops are located around the intersection of Viale Gramsci and Via Torino. On Via Torino you find a post office and a pharmacy. The local public bus stops here too and takes you downtown and other places in Riccione.
June 2016 events for Riccione Abissinia
Saturday 04. 06. 2016 – "COMINCIAMO COSÌ"
"COMINCIAMO COSÌ" is Italian for "SO LET'S START" – with a delicious slice of pie, a glass of wine from our hills, the sound of Graper Fruit (Italian/American rock 60s/70s) and a walk through the stalls of a pretty market for a pleasant evening.
Wednesday, 08.06.2016 6:00pm – Streetfair
Stroll along the stalls of the street fair on Viale Gramsci and Via San Martino and buy souvenirs for yourself, your friends and family. Everything you need is here: antiques and various collections (coins, stamps, postcards), artists selling their creations, street vendors with the latest and newest gadgets for kitchen and home, decorations and nick-nack.
Friday 10.06.2016 "LEARDI E SIMO"
Dance with the orchestra "LEARDI E SIMO" from standard and Latin to line dancing and enjoy the free wine from the Romagna
Wednesday, 15.06.2016 – CASADEI Dance Show
The "CASADEI DANCE SHOW" company provides an engaging spectacle that draws on local tradition with, dance, magic, comedy and much more. Not to be missed !
Sunday, 19.06.2015 TOMBOLISSIMA – The big raffle
Everybody wins – Free tickets! Get your free raffle tickets from your hotel reception and go win one of the big prizes. Prizes and raffle sponsored by local businesses. Music and entertainment by DJ Maurino.
Wednesday, 22.06.2016 6:00pm Street fair
Saturday 25.06.2016 from 18.00 to app. 19.30 -"THE Fellini run"
The Harley-Davidson Riccione chapter welcomes you to a "RUN OF Fellini" with the mythical 400/500 Harley Davidson from all over Italy. Enjoy the machines and Rockabilly "Johnny Boy and his band". The band will play at 21:30h and is not to be missed. A small market in the streets and pleasant surprises will make you dream you are on the road in America.
Thursday 30.06.2016 'Waiting for La Notte Rosa"
'Waiting for La Notte Rosa" the "Pink Night" celebrated along the Adriatic beach resorts. Get together with comely Brazilian dancers in their colorful and dazzling costumes, while they parade along Viale Gramsci and S.Martino avenues, giving the public moments of pleasant lightheartedness.
Don't Miss "La Piazzetta dei Pittori"
Every Saturday Piazzetta San Martino turns into "The Painters Piazzetta" when local artists show and offer their paintings.
The events take place on Viale Gramsci and Via San Martino and on the small square of piazetta S. Martino and begin at 21: 00h, unless otherwise indicated.
Admission and food and wine, when offered, are free.