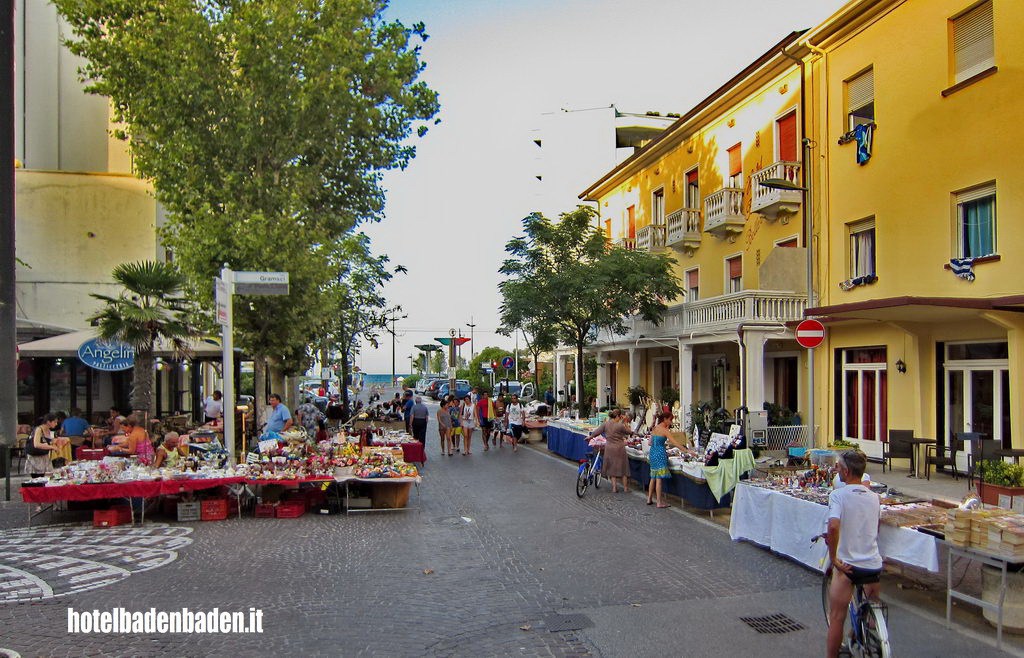 Riccione Abissinia in July 2016
Night entertainment in Riccione Abissinia July 2016
Enjoy the sun and the warm, clear water of the Adriatic Sea during the day and join us for some evening fun on the doorsteps of your family Hotel Baden Baden in Riccione.
The neighborhood of 3 star Hotel Baden Baden is a quiet one, dominated by family owned and operated 3-4 stories hotels. Shops, post office, pharmacy and cafes, bars and restaurants cater to your daily needs. They all get together and organize and finance several nightly events every week.
Most is happening in Viale Gramsci and Via Torino, right in front of your family hotel. Events start at 21:30 h unless otherwise noticed.
Don't be afraid of the noise. Everything stops at about 11pm and you do not have to worry about your beauty sleep.
Riccione Abissinia July 2016 events and attractions
Friday 01. July 2016 – "La Notte Rosa" – Pink Night
Join us for our "Summer Start" celebrations. Everything and everybody is dressed in pink. "La Notte Rosa" is celebrated all along the Adriatic Sea from Rimini to Cattolica to welcome the summer and summer guests.
Saturday 2. July 2016 – "Street Magic Night"
Magicians are among us. Become a magician yourself in this evening of pure fascination, wonder, magic and fun.
Riccione Abissinia is Magic!
Wednesday, 06. July 2016 18:00 h – Streetfair
Stroll along the stalls of the street fair on Viale Gramsci and Via San Martino and buy souvenirs for yourself, your friends and family. Everything you need is here: antiques and various collections (coins, stamps, postcards), artists selling their creations, street vendors with the latest and newest gadgets for kitchen and home, decorations and nick-nack.
Tuesday 12. July – Angelo, Sabrina and Filippo
The beautiful music and the positive impression of "Angelo e Sabrina" (and don't forget Filippo!) will make you spend a happy evening. Enjoy the traditional "Rustida di Pesce" (local bread and grilled fish) accompanied by the excellent wine of our hills and have a great night.
Sunday, 17.07.2016 – 21:00 h TOMBOLISSIMA – The big raffle
Everybody wins – Free tickets! Get your free raffle tickets from your hotel reception and go win one of the big prizes. Prizes and raffle sponsored by local businesses. Music and entertainment by DJ Maurino.
Wednesday, 20. July 2016 18:00 h Street fair
Thursday 21. July 2016 – "A night of smooth music"
Listen to "Melody Drifting Band" in the square St. Martino, right around the corner from your family Hotel Baden Baden.
Saturday 23. July 2016 – "A night of smooth music"
This evening is dedicated to folklore, dance and the party, interpreted for you by the "orchestra Luana Babini" and the talented folk dancers of "Gli Scaricatori di Portico".
For a perfect night don't miss the queen of the Romagna "La Piadina" (local pita like bread) and Sangiovese, wine from the hills of the Romagna.
Friday 29. July 2015 – "Miami and the Groovers"
Back by popular demand, the band "Miami and the Groovers" is once again a guest in Abissinia. The energy of the band is palpable and the rhythm of their music no one can escape
Enjoy polenta and poveracce, polenta and local mussels, and great wine from the hills of the area.
Don't Miss "La Piazzetta dei Pittori"
Every Saturday Piazzetta San Martino turns into "The Painters Piazzetta" when local artists show and offer their paintings.